Manufacturing Improvement Topics
WHAT IS PERFECT PRODUCTION?
We coined the term Perfect Production from the goal of achieving a perfect OEE (Overall Equipment Effectiveness) score. In other words, Perfect Production is manufacturing only good parts, as fast as possible, with no down time.
Turns out — the pursuit of Perfect Production is a very challenging endeavor (to put it mildly). So we aim to make it easier. Much easier.
Our manufacturing improvement topics offer a completely modular approach that draws on best practices from the entire world of manufacturing — lean manufacturing, theory of constraints, six sigma, and many other sources. It also draws significantly from the world of coaching, leadership, and self-development.
Our goal is to make it exceptionally easy for you to improve manufacturing productivity. With that in mind, this page presents best practices for working towards Perfect Production. These best practices share four core characteristics:

Easy
We emphasize approaches that are easy to understand and easy to implement. Even complex topics can be made more accessible.

Practical
We are realistic about what is within the reach of most teams to accomplish and the resource limitations that we all face (time and money).

Flexible
We don't tie ourselves down to any one process or framework. Instead, we collect and leverage proven techniques regardless of their source.

People-Focused
People like you play a critical role in creating sustainable long-term change. That's why we cover topics like leadership and coaching.
There are three types of topics ranging from specific manufacturing improvement tools, through to broad leadership strategies:
Tools
Best practices for identifying and eliminating waste in manufacturing. These best practices are drawn from a wide range of methodologies, including Lean Manufacturing, Six Sigma, and the Theory of Constraints.
Accelerants
Best practices for accelerating progress. They are broad in scope and add value to many tools. XL Accelerants are often drawn from the world of coaching, leadership, and self-development. The overarching goal is to teach, motivate, and inspire people to become powerful change agents for improvement. Many techniques for building sustainable processes fall in this category.
Silver Bullets
The very best techniques for achieving quick wins and fast progress. They are packaged combinations of XL Tools and Accelerants that are proven to deliver fast and substantive results. Silver Bullets are a great place to start improvement programs.
Down Time Tips
10 practical tips for reducing Down Time.
Down Time is the largest source of lost production time for most manufacturers. Here are some practical tips for reducing Down Time that don't require a lot of outside support.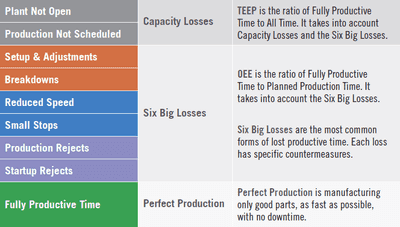 Improve the Constraint
Identify. Measure. Improve.
Each manufacturing process has a constraint (bottleneck). Focusing improvement efforts on the constraint is the fastest path to improved productivity.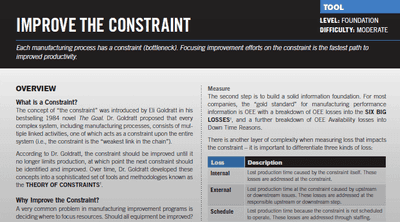 Overall Equipment Effectiveness
A yardstick for manufacturing productivity.
OEE measures how close you are to perfect production (manufacturing only good parts, as fast as possible, with no down time). It is a great metric for benchmarking progress in improving manufacturing productivity (i.e., eliminating waste).

Single-Minute Exchange of Die
Reduce changeovers to under 10 minutes.
Changeover times can typically be reduced to less than 10 minutes (i.e., single-digit minutes). Analyze each element of the changeover to see if it can be separated (moved external to the changeover), converted (modified to be external), or streamlined.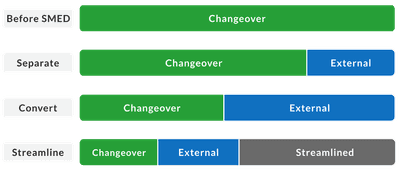 Six Big Losses
An excellent target for improvement actions.
The Six Big Losses are a very effective way to categorize equipment-based losses: Unplanned Stops, Planned Stops, Small Stops, Slow Cycles, Production Defects, and Startup Defects. They are aligned with OEE and provide an excellent target for improvement actions.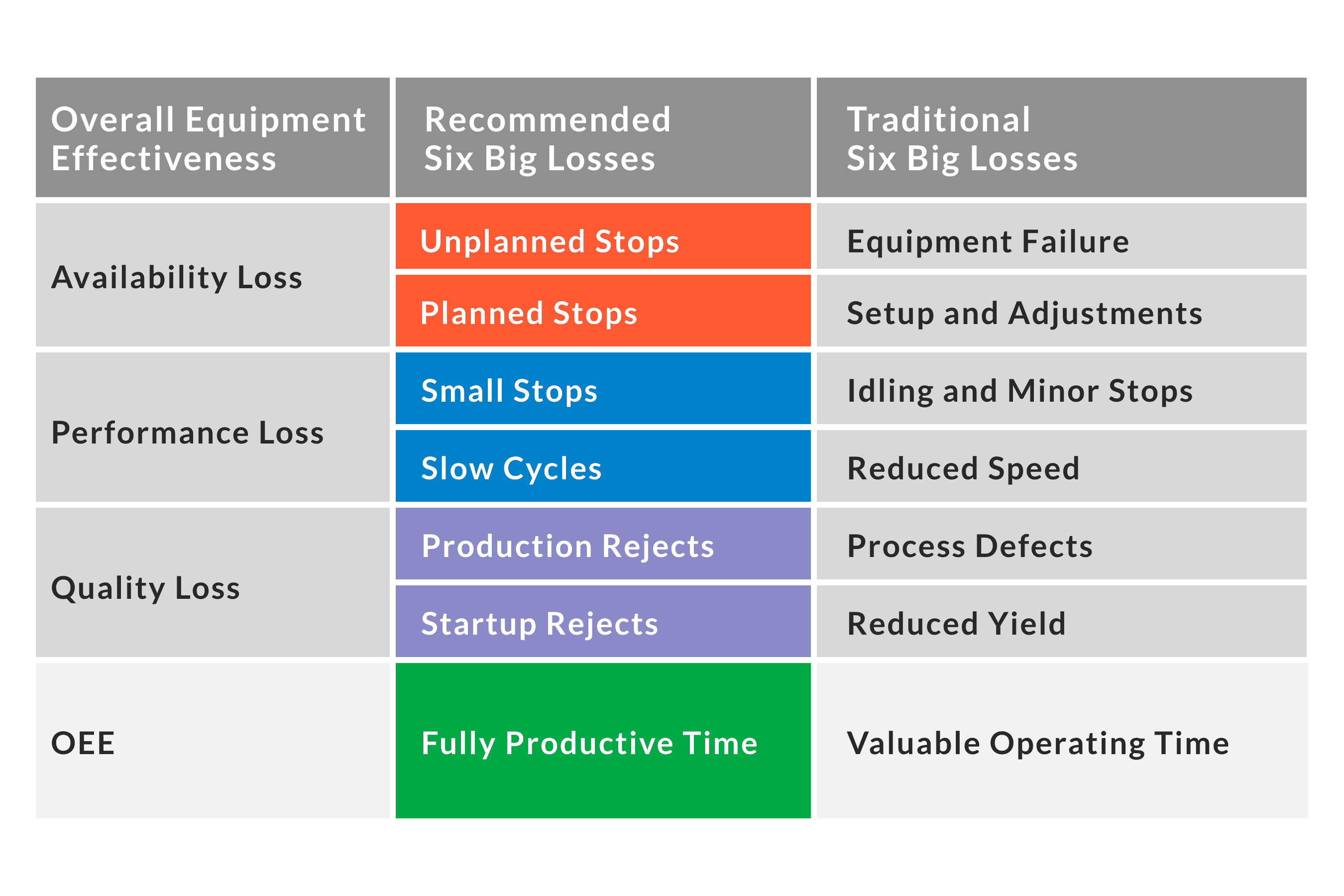 Structured Improvement
Strategic. Tactical. Operational.
Deliver superior results by defining an improvement objective, capturing information related to that objective, and using that information in connected meetings (strategic, tactical, and operational) to drive decisions and actions.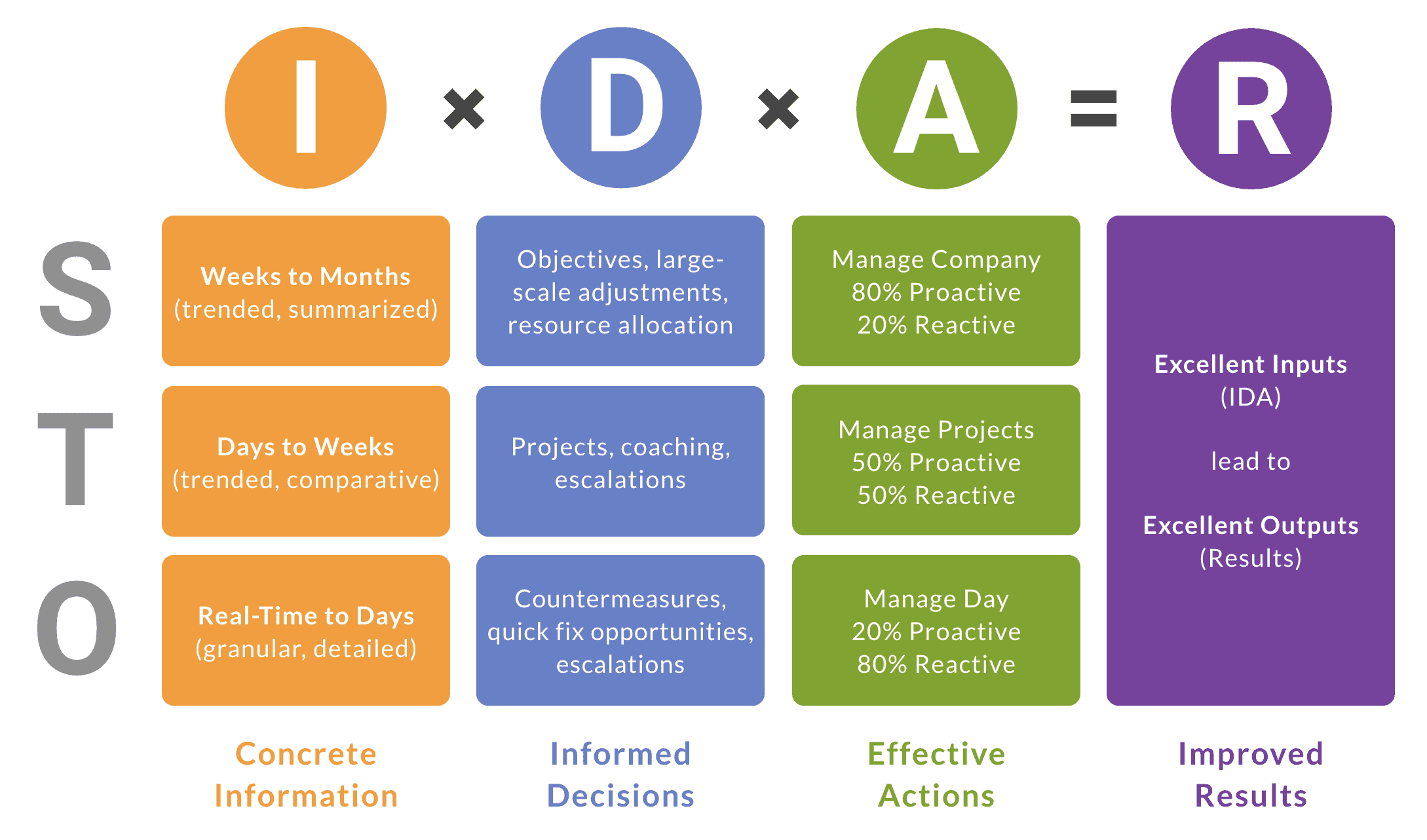 ACCELERANTS
Agile
Small tasks. Big focus. Get things done.
Deliver small chunks of business value in short release cycles. For each cycle, choose whatever will deliver the most value and get it done. Do away with complicated master plans and be evolutionary and adaptive.
Be Your Best
Be Inspired. Do Great Work. Change the World.
Select a small number of truly important things and do those things exceptionally well. Challenge yourself to achieve more, perhaps much more, and show up to work every day as your best self.

Great Meetings
Decisions. Actions. Change.
Spend less time in meetings while dramatically increasing their value. Great Meetings are organized, focused, fast, positive, participative, and proactive. Participants come prepared and leave energized. Great Meetings result in decisions and action.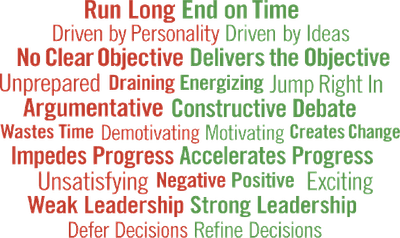 IDA (Information, Decision, Action)
An important way to improve results.
Most companies place too much emphasis on results (looking backward) and too little emphasis on the factors that drive results: Information (the basis for effective decisions), Decision (making effective decisions), and Action (transforming decisions to results).

Leadership
Inspire others and accelerate change.
Inspire others to do their best work and you leverage your most important resource – people. Leadership is a learned skill. Improve your effectiveness as a leader and you improve your ability to create and accelerate change.

SILVER BULLETS
Short Interval Control
Small actions add up to large improvements.
Quick and focused reviews of performance data during the shift enable ongoing course corrections and small-scale fixes that collectively result in significant improvements in performance. Look at the immediate past to guide actions for the immediate future.

Top Losses
Attack your top sources of lost production.
Time is precious, so spend that time fixing the most important things — your top sources of lost manufacturing productivity. Track your Top Losses. Pick the biggest actionable loss. Fix it. Repeat.