XL Models and Pricing
Overview
The Vorne XL Productivity Appliance™ is a "bolt-on" smart device that provides accurate and automated manufacturing data to operators, engineers, and managers. XL is available in four model versions.
The following prices are for single unit quantities, volume discounts are available. The prices below are for systems sold in the USA and Canada. For International Prices please click here.
This page includes information shared by all XL models. The only difference between each model is the scoreboard. For more information, visit the XL Product Page.
To monitor your manufacturing process, simply provide one or two sensor inputs and a network connection. There's no software to install, no changes to your PLC code, and no recurring costs. Simple. Easy.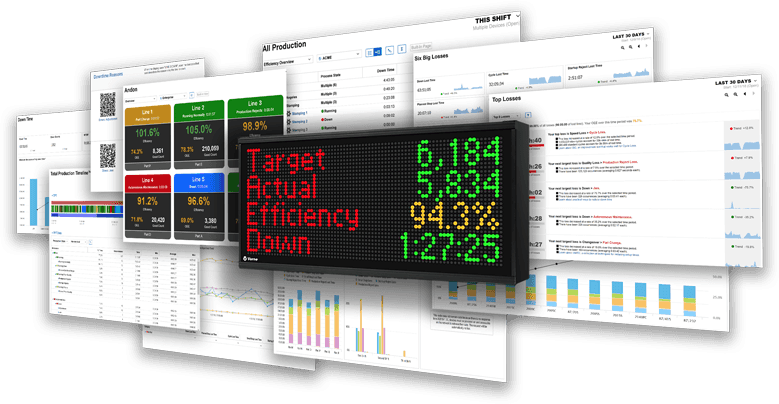 Try XL for 90 Days
Every one of our 30,000+ deployments started with a trial. XL is easy to deploy, simple to use, and you'll see results immediately. If you would like to learn more about XL, we invite you to try it in your plant, free for 90 days.
Barcode Scanner Pricing
93-0197
Light Industrial Barcode Kit
$298
93-0242
Light Industrial Wireless Barcode Kit
$698
93-0228
Industrial Barcode Kit
$498
93-0245
Industrial Wireless Barcode Kit
$998
User Manuals and Presentations
We've created a variety of presentations to help you introduce XL to your colleagues and user manuals to learn how the system works. And if you'd prefer to talk – call: +1-630.875.3600, we love to help (and can save you some reading).
Introducing XL
A great place to start if you are new to XL and want a quick overview of Vorne and XL.
Click Here
IT Brief
Explains how XL is architected, how it interacts with your network, and how software updates are delivered.
Click Here
Meet XL
XL in more depth, including an interactive scoreboard tour, a description of how XL monitors production, and a summary of built-in reports and analytics.
Click Here
Install XL
Describes how to physically install XL, including how to easily integrate XL to your process.
Click Here
Configure XL
Provides step-by-step instructions for optimizing XL for your specific application.
Click Here
Operator Training
Explains how XL monitors the manufacturing process, how to leverage information on the scoreboard, and how to input information by scanning barcodes.
Click Here
XL API
Provides an overview for how the XL API can be used to integrate with other manufacturing systems.
Click Here
Warranty
Every Vorne XL system sold in North America is supported with a 3-year hardware warranty. To review the terms of our warranty policy please click here.