OEE Displays
THE BIG IDEA

Digital OEE displays enhance the manufacturing process by gathering accurate, actionable production data and making it available to operators in real-time. That way, they can make improvements during the shift as opposed to supervisors looking at data retroactively and making changes for the next shift.
Digital Production Displays in Manufacturing
Digital production displays are integrated into manufacturing plants to make accurate, automatically collected production data visible to as many members of your team as possible. This empowers plant employees to act on current information to ensure lines run smoothly and efficiently. These scoreboards can collect and display a variety of metrics, so you can choose what resonates best with your operators and what will best drive action toward the improvements upon which you want to focus.
Why Use OEE Displays?
Overall Equipment Effectiveness (OEE) identifies the percentage of planned production time that is truly productive. An OEE score of 100% represents perfect production: manufacturing only good parts, as fast as possible, with no down time.
Traditionally, OEE lives in offices and meetings. What do we mean by that? Operators capture data using log sheets that record down time, changeover time, and production counts. After the shift ends an admin or supervisor collates the data and generates an OEE report, which is reviewed at the next daily production meeting. Bottom line – the information is too late to drive meaningful proactive improvement on the plant floor. Furthermore, manual data capture frequently suffers from serious accuracy issues (such as underreporting of down time). OEE displays solve both of these problems.
OEE displays automate data capture, calculate OEE in real-time, and identify underlying losses so the team knows how well they are doing during the shift (we call it "winning the shift"). The underlying losses of OEE are expressed in terms of Availability, Performance, and Quality. Going back to the idea of perfect production: "manufacturing only good parts" is perfect Quality, "as fast as possible" is perfect Performance, and "with no down time" is perfect Availability.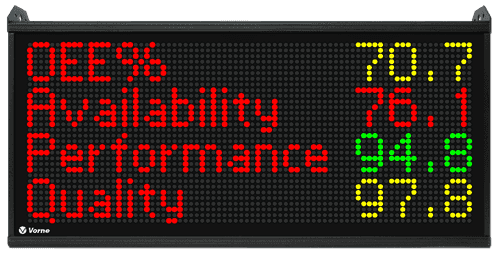 IMPROVE PRODUCTIVITY WITH XL
Many businesses find that pure OEE as shown above can be a bit abstract for practical use by teams on the factory floor (what does a Performance score of 94.8% really mean?). An interesting alternative for an OEE display is to show Availability, Performance, and Quality in terms of loss (usually lost time within the shift, job, or part run). In other words, show Availability Loss, Performance Loss, and Quality Loss.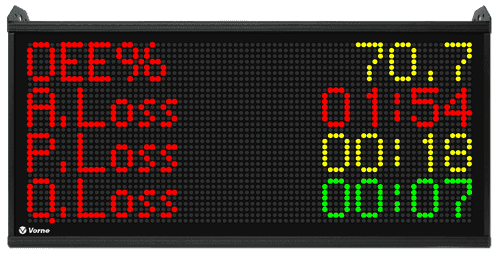 IMPROVE PRODUCTIVITY WITH XL
A popular alternative to OEE displays focuses on metrics that enable employees to "win the shift". A TAED display shows:
Target: Real-time count of good parts that should have been manufactured.
Actual: Real-time count of good parts that actually were manufactured.
Efficiency: Ratio of actual good parts to target good parts.
Down Time: A component of OEE Availability; for most companies the largest loss.
TAED is a tool for instantly conveying to plant floor employees how well they are doing – whether they are "winning the shift".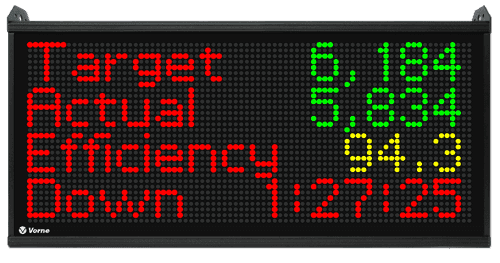 IMPROVE PRODUCTIVITY WITH XL
Types of OEE Displays
Two types of OEE displays are typically used in manufacturing:
Whiteboard
Portable (on wheels) or fixed (wall-mounted) rewritable boards where KPIs such as OEE are recorded. Whiteboards may be updated at the start of each day, at the start of each shift, or hourly (optimal). Information is not real-time but can influence shift performance when updated hourly. Whiteboards convey a lot of information, but the information is manually captured, not real-time, and not viewable from a distance.
Visual Display
Plant floor electronic displays that convey OEE and other KPIs in real-time. They provide:

Visual cues to alert when special attention is needed
Contextual information such as down time during breakdowns, target time for changeovers, and remaining time for breaks
Automated data capture for high resolution and accuracy
How to Use OEE Displays
One of the most effective ways of using OEE displays is to provide contextual real-time information on production loss. Here are three simple examples of contextual real-time information that will drive action on the plant floor.
Running
Proactively engages the team by identifying slow cycles (OEE Performance loss), small stops (OEE Performance loss), and poor quality (OEE Quality loss) while running.

Unplanned Stop
Calls immediate attention to down events (OEE Availability loss). Encourages operators to get equipment up and running as quickly as possible.

Planned Stop
Provides a real-time target for changeovers (OEE Availability loss). When the changeover takes longer than the target, it displays a simple alert.
Remember – the primary goal of using OEE displays is to positively influence behavior and drive improvement actions on the factory floor. Contextual information guides operators to effective actions.
OEE reports are records of what happened in the past. OEE displays are records of what is happening right now – an opportunity to change history before it happens. By displaying OEE and other performance data in real-time, your team can address issues and solve challenges as they occur.
OEE Display Comparison Chart
The following selection chart highlights some of the many advantages of using the Vorne XL Productivity Appliance™ as an OEE display. We like to think of XL as the ultimate OEE display!
Affordable
✔
✔
Highly Visible
✔
Engages Operators
✔
✔
Automates Data Capture
✔
Real-Time Information
✔
Historical Analytics
✔
Browser-Based Reports
✔
Multiple KPIs
✔
✔
Downtime Alerts
✔
Slow Running Alerts
✔
Changeover/Break Timers
✔
Count Metrics
✔
✔
Rate Metrics
✔
Cycle Metrics
✔
Production Time Metrics
✔
OEE Metrics
✔
Six Big Loss Metrics
✔
TEEP/Capacity Metrics
✔
Target Metrics
✔
✔