Additional Products
Overview
Vorne improves the bottom line of companies just like yours by delivering actionable, real-time information to your enterprise!
Vorne data collection and visual display products are used around the world at thousands of companies representing nearly every industry. We use our application experience and on-going lean manufacturing research to provide above and beyond value at a great price.
The fact is, whatever your goal – increasing productivity, reducing down time, or enhancing communication – Vorne products are an outstanding choice!
Production Monitors
The XL Productivity Appliance™ is a "bolt-on" smart device that provides you with plant-wide real-time data visibility and a comprehensive set of performance management tools. It combines six products in one simple package: scoreboard, production monitor, I/O processor, data warehouse, analytics engine, and web server.
Most new applications use the second-generation XL platform. For existing customers and some specialized applications we continue to offer the first-generation platform, which is featured below.
We also offer a drop-in hardware upgrade to the second-generation platform for many first-generation models. The upgrade price is $495.
XL800 Productivity Appliance™
A visually expressive graphics display embeds real-time performance data into a virtually unlimited number of screens – instantly responding to plant-floor events as they occur.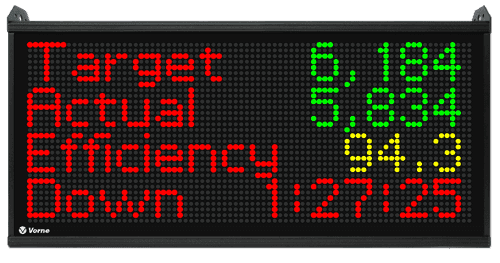 XL600 Productivity Appliance™
A powerful twist on the classic Andon featuring 2.3″ (57 mm) ultra-bright digits. Reversible legend plates and configurable display fields make it easy to reconfigure the display at any time.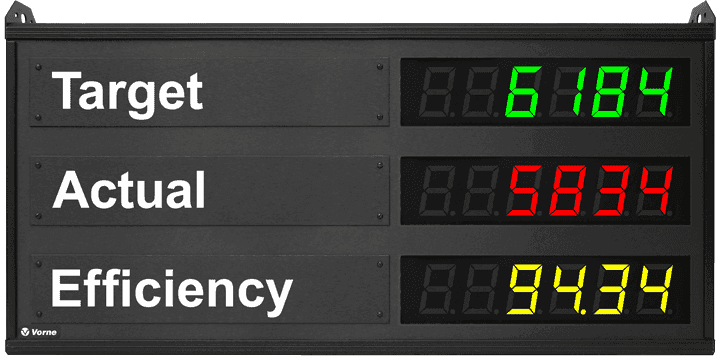 XL400 Productivity Appliance™
A low cost entry-level model with a 4″ (10 cm) smart display. Show count or rate during normal operation, down time when the line goes down, and remaining time during breaks.

Legacy Products
Vorne has provided rugged automation products exclusively for the industrial manufacturing environment for over 50 years. During this time we have discontinued some Vorne products. For more information regarding Vorne products that are no longer manufactured please contact Vorne Support or click on the provided link.