XL810-1 Productivity Appliance
Overview
The XL810-1 is our most popular XL model, featuring a large alphanumeric LED scoreboard. This page includes information that is particularly useful when ordering the XL810-1. To learn more about XL features, please refer to our XL Productivity Appliance™ page.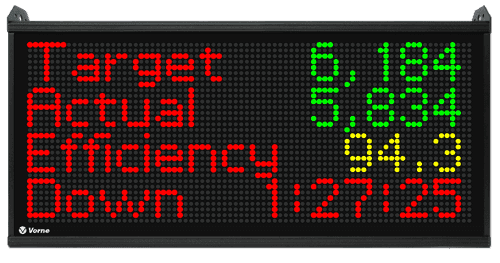 The only difference between each XL model is the scoreboard. Here are the details of our other three XL scoreboards:
Pricing
XL810-1
The XL810-1 is $4,190 (USA and Canada). Volume discounts are available. For international pricing please contact one of our international partners.
2D Barcode Scanners
Typically, one of the following 2D barcode scanner kits is purchased along with each XL device.
93-0197
2D Light Industrial Barcode Kit
$298
93-0242
2D Light Industrial Wireless Barcode Kit
$698
93-0228
2D Industrial Barcode Kit
$498
93-0245
2D Industrial Wireless Barcode Kit
$998
Specifications
Here are key specifications common to all XL units.
Processor
32-bit 1 GHz ARM
RAM
512 MB
Memory
4 GB Flash
Digital Inputs
(8) 5 to 24 VDC, Sink or Source
Relay Output
(1) SPDT, 30 VDC or 250 VAC at 1A, resistive load only
Ethernet
(1) IEEE 802.3, 10/100 Mbps, Auto-MDIX, RJ-45
Serial
(2) RS-232, 300 to 115.2k baud, full-duplex
Voltage
100 to 240 VAC, 50 to 60Hz
Temperature
0º to 50ºC ambient
Humidity
5% to 95% non-condensing
The following specifications are particular to the XL810-1:
Power
80W max
Dimensions
26.2 x 13.7 x 3.5 in
Weight
19 lb
Try XL for 90 Days
XL has 30,000+ installations, and every new application starts with a free 90-day trial. That's how confident we are that you'll love XL. XL installs in hours, configures in minutes, and impacts immediately.
Warranty
Every Vorne XL sold in North America includes free tech support and a 3-year limited warranty. To review the terms of our warranty policy please click here.